Posts for category: Uncategorized
By Dental Care Kalamazoo
July 13, 2020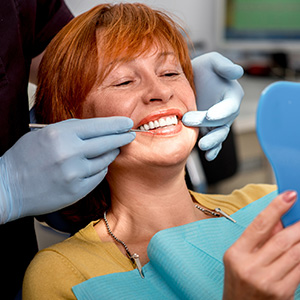 Dental implants aren't simply prosthetic teeth, but rather an innovative system that restores both smile appearance and dental function. And while an implant can indeed replace a single tooth, they can do so much more. Integrated with removable dentures or a fixed bridge, they provide a secure solution to multiple missing teeth.
Implants essentially replace a missing tooth's root, the basis for their lifelikeness and functionality. As such, they're also the most sophisticated restoration used today, requiring a high degree of technical and aesthetic skill to place them properly. In reality, implantation is more a process than a procedure.
If you're considering implants, that process begins with a comprehensive dental exam. During the exam, we'll assess the exact condition of your oral and facial structures like the length of remaining teeth, your bite and jaw dimensions. We'll use this information to plan the type and placement of your implants. The exam may also reveal problems like bone loss that might postpone your implants or suggest another form of restoration.
Using digital technology, we then locate the exact positions for your implants on the jaw to ensure the best outcome. This often results in the creation of a surgical guide, a plastic template placed over the jaw that accurately pinpoints the locations for the drilling sequence during implant surgery.
In most cases once the implants are surgically installed, gum tissue may be sutured over the implant to protect it while it integrates with the bone. In some cases, though, a visible crown may be placed immediately, so the patient can enjoy a tooth-filled smile the same day. This immediate crown, though, is temporary and will be replaced with a more durable, permanent one in a few months.
During this interim, the titanium in the implant post will attract bone cell growth, which will build up on the implant surface. This increased bone contact will help secure the implant fully in the jaw, giving the implant its signature durability.
Once the integration is complete, the permanent crown is affixed to the implant (or implants in the case of a fixed or removable dental appliance). It may have been a long road, but you'll have the closest thing to real teeth.
If you would like more information on implant restorations, please contact us or schedule an appointment for a consultation. You can also learn more about this topic by reading the Dear Doctor magazine article "New Teeth in One Day."
Tooth sensitivity is common. Many people think it's something that they have to put up with, nothing can be done and often they don't even mention it to their dentist. But we can help resolve sensitivity and one of the simplest ways to start is by changing to a toothpaste designed to help tackle this problem!
So. When was the last time you visited the dentist for a regular checkup and cleaning?
Yes, we're talking to you.
You're probably busy worrying about your family, work, or school (or all three at the same time). You also might think that a trip to the dentist for a checkup is more of a luxury, or something you'll get to when your life (and your finances) settle down a bit.
Sound familiar?
You most likely already know that good dental health isn't a luxury, it's a necessity. You probably already know that gum disease affects nearly half of adults in the U.S., and that the more teeth you have as you age, your chances of having better whole-body health are greater – for life. We're also sure you've heard that a good oral hygiene routine at home, along with regular check-up visits are the best possible way to prevent the need for more extensive and costly procedures down the road.
If you're like a lot of folks, you may know these things, but you still may hesitate to pick up the phone or go online to book that check-up appointment. Why? Chances are, you may think those checkup visits may be more costly than you can afford.
Affordable Dental Health
Good news – regular dental check-ups may be (much) more affordable than you think with 1st Family Dental.
1. Affordable Dental Check-Ups – Cheaper Than Your Daily Coffee:

Did you know that the Average American household spends more than $1,000 each year on coffee? According to our calculations, that's almost 3 times the cost of two regular dental checkup and cleaning visits at any of our locations. In fact, here are few more things that the average household spends the discretionary part of their budget on:
Lunch at work, and/or lunch dates: $936

Alcohol: $454

Clothes: $ 1,817

Tobacco:$ 323
Are you surprised? As it turns out, two regular checkup with cleaning visits would take up less than one percent (.6%) of the average household budget. Hooray!
3
2. You May Have Dental Insurance and Not Even Know It
Do you have insurance through an employer, or through the Marketplace Exchange? Then you may have dental insurance and not even know it. Check on these three things to find out if you've got benefits you're not using:
Each year your employer can review and make changes to insurance benefits. In many cases, medical insurance is a completely separate policy from dental coverage. You may have a card for your medical coverage, but not for dental. Check with your employer's HR (Human Resources) department to confirm if you have dental coverage. If you do, in many cases preventive services such as check-up and cleanings are covered 100% or may require a reasonable co-pay or coinsurance. If you've got coverage, most plans have a use-it-or-lose-it policy so be sure to get the most out of your coverage. After all, you're already paying the premium!
If you purchased a plan through the marketplace and selected a dental coverage option, check the benefit availability. If you met your individual or family deductible for the year, your dental care may be covered as well.
Illinois expanded the income threshold for Medicaid coverage for individuals and families along with the rollout of the Affordable Care Act (ACA). More people in Illinois may be eligible for subsidies to help afford their medical and dental coverage, or may be eligible for Medicaid coverage. To learn more and see if you are eligible for subsidies or other help, click here.
3. No Insurance? We've Got You Covered.